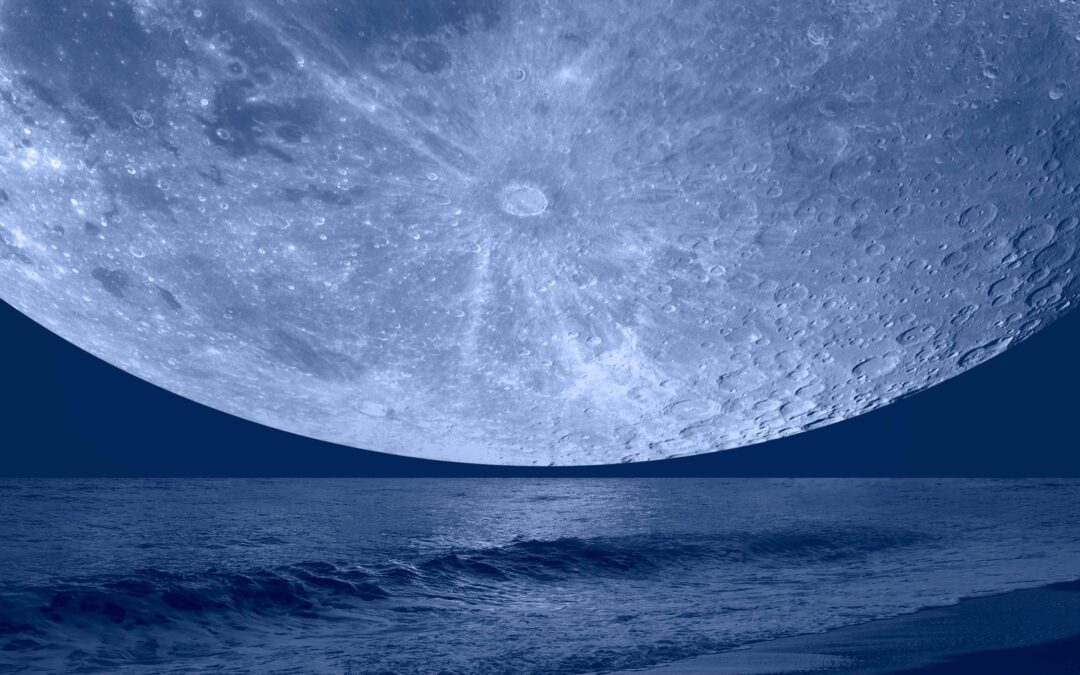 Wednesday, August 30, 2023
6:36 p.m. pacific time
7°25′ Pisces

Some people believe holding on and hanging in there are signs of great
strength. However, there are times when it takes much more strength
to know when to let go and then do it. ― Ann Landers
The rare combination of both a Super and Blue Full Moon occurring simultaneously only occurs every 10–20 years. The last Blue Supermoon occurred in December 2009 and the next one will appear in August 2032.
A Full Moon is deemed blue not because of color, but due to the rarity of occurrence — hence, the popular slogan "once in a blue moon."1 Taking place every two to three years, the most recent Blue Moon happened in August of 2021.
Out of the current four consecutive Supermoons, this one is the third and closest to Earth.2 Due to their closer proximity, Supermoons are energetically more potent, and I'm sure you're feeling it! Furthermore, this current Supermoon is closely aligned with the planet, Saturn, also in Pisces.
Astrologically, Saturn is associated with maturation, responsibility, and the cycles of time. Saturn's gifts are many, but one of the most important is the recognition of the seasons within our lives. This recognition allows us to know when the time has come to surrender and let go (Pisces) of that which is no longer serving us so we can step into a new cycle.
Also intensifying the power of this lunation is Venus retrograde in Leo and Mercury retrograde in Virgo: Venus through September 3 and Mercury through September 15. Venus retrograde in Leo is encouraging us to re-visit our deepest heart-felt values and Mercury's retrogration in Virgo will offer opportunities for contemplation — especially in regard to our mentality (Mercury) and how it effects our day-to-day reality.
Pisces, the mystical-cosmic sign that this lunation occurs, represents the unending quest of humankind's desire to merge with divine. This Piscean search for union can permeate our waking and dreaming reality. Additionally, while the Moon is in Pisces, your personal waking world may feel dreamy and surreal. This is because the veils between the earthly and spirit realms become very thin when we are under the divine influence of Pisces, creating an auspicious time to seek and merge with the sacredness of your divine nature.
Lastly, Pisces is the final sign of the zodiac and can encourage culmination in one or more areas of your life. The Moon's alignment with Saturn in Pisces is asking us to heal and relinquish patterns associated with old ways of being. Therefore, even the most difficult culminations will serve your highest good as they simultaneously prevent unnecessary suffering caused by the resistance change. Embrace and honor the wisdom of fluidity that this rare Blue Supermoon is granting and dream exciting new visions into your future.
Pisces & Full Moon Key Words: dreams, mysticism, healing, faith/trust, guilt, mundane cycles of time versus cosmic time, desires, addictions, deception, ideals/idealism, disillusionment, loss of meaning, intuition, suffering, healing, flexibility, culmination of an entire evolutionary cycle, union with divine
Notes:
1. Based on the 29.5-day orbit of the Moon, monthly Blue Moons occur when there are two Full Moons in the same month. There are also seasonal Blue Moons, which are deemed such when four Full Moons take place in one season. 2023 has two Full Moons in the month of August — the 1st and 30th — with the second of the two marking the current Blue Moon.
2. The technical astronomical term for a Supermoon is perigee Full Moon — with four occurring in 2023: July 3, August 1, August 30, and September 29. Supermoons happen when the Full Moon is at its closest point to Earth. Because of their closer proximity, they can appear as much as 14% larger and 30% brighter to our eyes than normal Full Moons.
Related Articles
Intimacy and Venus Retrograde
Mercury Retrograde in Virgo
The Sun–Moon Lunation Cycle
© 2023 by Linda Kaye